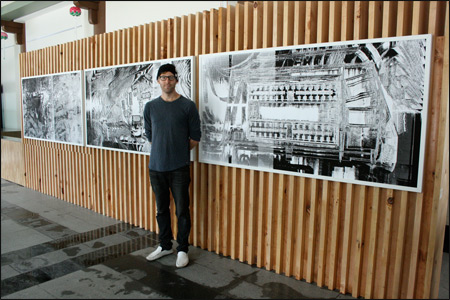 Installation view in Seongbo Museum

020 Haeinsa_Palimpsest / digital prints, audiovisual performance / 2011

Click here for video excerpt

In August 2011 I was very fortunate to be artist-in-residence with Haein Art Project, located at the 1,200-year-old Haeinsa Temple isolated in the mountains of South Korea. Housed at the temple, in the pavilion known as the Janggyeong Panjeon, is a collection of 81,000 hand-carved woodblocks, called the Tripitaka Koreana, containing the entire Buddhist scriptures. In celebration of the Tripitaka's millenial anniversary, 2011 saw the advent of the Haein Art Project and the development of the exhibition Tong (通), as well as a day of workshops, art, music and dance performances titled Haein Art Day. Artists included in the exhibition and festival also include Miya Ando, Bill Viola, Atta Kim, Tammy Kim, Igor & Svetlana Kopystiansky, Rodney Dickson, Kit Reisch, Xu Bing, Yu Araki and Zhang Huan, among others. Visit the Haein Art Project website here.





Contents (click to jump):
020a Prints
020b Audiovisual Performance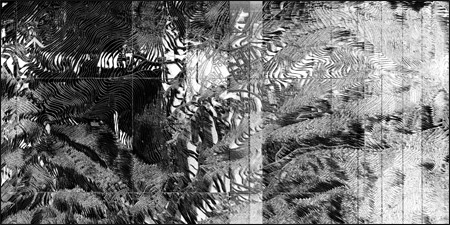 Haeinsa_Palimpsest: Contour Map 01, digital pigment print, 2m x 1m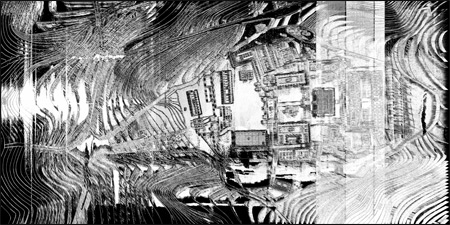 Haeinsa_Palimpsest: Contour Plan 01, digital pigment print, 2m x 1m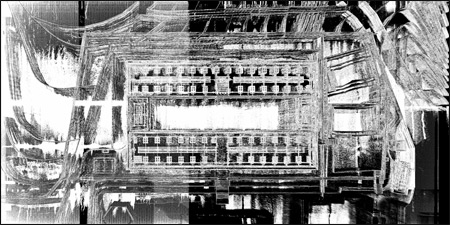 Haeinsa_Palimpsest: Janggyeong Panjeon 01, digital pigment print, 2m x 1m

020a Haeinsa_Palimpsest prints

Each of the above prints was made using a similar piece of custom software as the series of digital prints titled Loci_. Field recordings made in and around the temple were used as raw material to merge with and manipulate existing architectural and topographic diagrams of the temple complex. The drawing process itself is performative, as each image is essentially a still from a dynamic sequence of actions using the audio waveform as a metaphorical ink. Of around 200 images created in this manner, these three were selected for inclusion in the exhibition Tong at Haeinsa Temple's Seongbo Museum.

top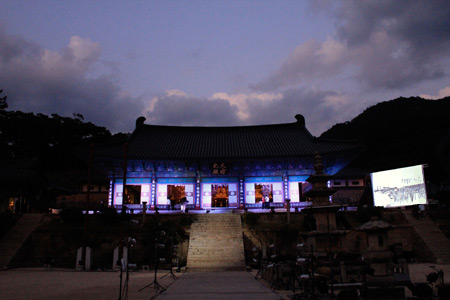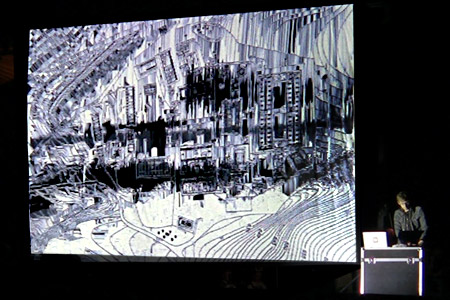 Haeinsa_Palimpsest, performance Sept 24 2011, photos by Steven Garen

020b Haeinsa_Palimpsest audiovisual performance

Click here for video excerpt

To celebrate the opening of the exhibition Tong, a day of workshops, art, music and dance performances was held titled Haein Art Day. I premiered the audiovisual performance version of Haeinsa_Palimpsest, which I created while artist-in-residence at the temple in August 2011. Field recordings taken in and around the temple were processed and tuned to a specific scale, then performed live using custom software. The video image also emerges in real-time from the custom software, blending together the oscillating visual waveform of each sound sample with topographic and architectural renderings of the temple grounds. The original performance had a running time of approximately 20 minutes, and is currently being developed into a full-length album.

Other performances included Haeinsa monks sitting in interpretation of John Cage's seminal piece 4'33".

top