Surround/Attract 01, digital pigment print, 26" x 28"

019 Surround/Attract / digital pigment prints / 2011

Surround/Attract takes its inspiration from the Japanese chess game Go (碁). The game possesses a subtle spatial dynamic that favors ripples of influence emanating from each stone as opposed to direct frontal confrontation. Where western chess is rigid and Cartesian, Go is flexible, even though both games are developed on top of a grid. Deleuze and Guattari emphasize it as a smooth space as compared to western chess's striated space, and recently scholars have recommended the study of Go to the American military as a means of understanding how the Chinese think. The game's architecture was developed from a phenomenological standpoint -- the board is slightly longer than it is wide to account for the perspective of the players sitting beside it, and black stones are a couple of mm larger than the white in order to account for an optical illusion caused by the white stones' brightness.

In each of the three images seen here, nine games were played on a small Go board. The nine games were notated, juxtaposed into the same graphic space, then connected using dotted lines of attraction between black and white stones.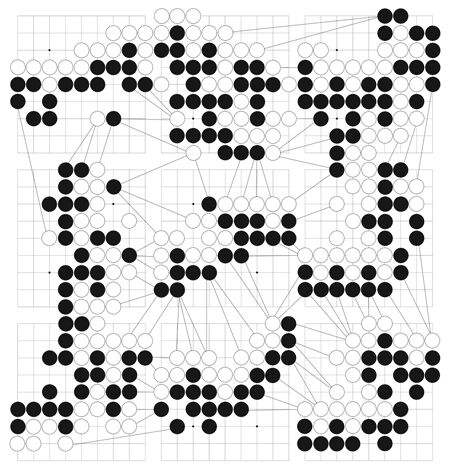 Surround/Attract 02, digital pigment print, 26" x 28"



Surround/Attract 03, digital pigment print, 26" x 28"



top