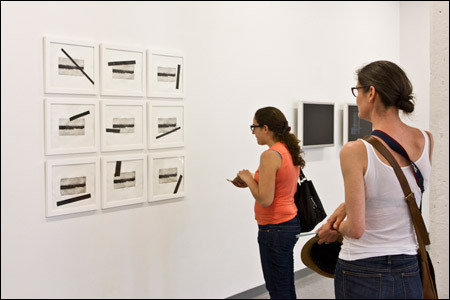 Loci_Convergence installation shot, Transforming Function exhibition at Governors Island Gallery.
Photo Caroline Voagen Nelson for LMCC 2012

026 Loci_Convergence / custom software, photogravure, ink, gaffers tape / 2012

Loci_Convergence is an extension of an existing digital pigment print series called Loci_. For that series, a piece of custom software translates audio field recordings into abstract forms that resemble various states of landscape, drawing with the sound's waveform as if it was digital ink. For Loci_Convergence, one of these images was prepared using the 19th century technique of photogravure, creating a contact zone between the algorithmic space of the image's creation and the archaic analog space of its output.

A couple of references in particular were in mind while working on these new prints. One is the Kurosawa film "Rashomon", where viewers are confronted with multiple conflicting stories concerning a murder. Rather than presenting a linear narrative leading to a single logical truth, Kurosawa gives us each story as a truth in itself. The second is the mathematical concept of convergence, which describes a state where an infinite number series approaches but never attains a limit point. Different series may converge on the same limit, effectively collapsing their differences and rendering them equal.

The above photo shows the prints in LMCC's Governors Island gallery, in a group exhibition titled Transforming Function, curated by Melissa Levin and Will Penrose.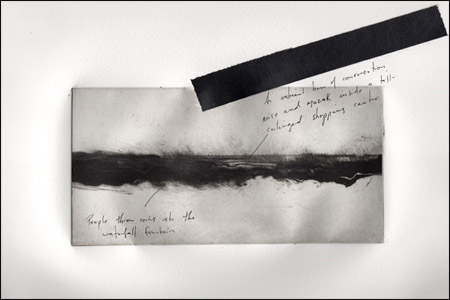 Loci_Convergence 001 detail