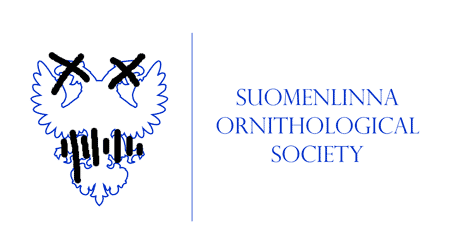 015 Suomenlinna Ornithological Society / performance, web, installation / 2009-ongoing

Suomenlinna Ornithological Society is a multi-faceted project created while at Helsinki International Artist-in-residence Program (HIAP) in May/June 2009. The island of Suomenlinna is a sea fortress located 15 minutes off the Helsinki coast. Built in the 18th century, it has witnessed years of bloody conflict, forced labor, and prisoner executions. Common wisdom says that the island is haunted. These stories contrast with Suomenlinna's current function as a summer destination for tourists and locals alike. With its beautiful rocky hills and dense population of birds, it provides an escape to nature for the city's inhabitants.

At the core of Suomenlinna Ornithological Society is the invention of new bird species with electronic birdsongs. The concrete sources of these birdsongs are samples taken from a Suomenlinna museum film about the history of the island. Explosions, cannonball whistles, and grisly vocal narrations are re-shaped into the rhythms, timbres and frequencies of birdsong. This transformation references the Electronic Voice Phenomenon (EVP), a supposedly paranormal occurrence where voices of the dead are heard via electronic technology.

Performances 2010:
WASSAIC PROJECT SUMMER FESTIVAL, Wassaic Project, Wassaic NY
THE ENCLAVE, Cakeshop, New York NY

Installations 2009-2010:
FUTURE TENSE (Curated by Dede Young), Stephan Stoyanov Gallery, New York NY
SUOKISSA, Suomenlinna - Atelier Tobias, Helsinki Finland

Contents (click to jump):
015a Society Web Archive
015b Sound Performance with Slide Projection
015c Sound Installation in Landscape or Gallery
015d Virtual Installation on Governors Island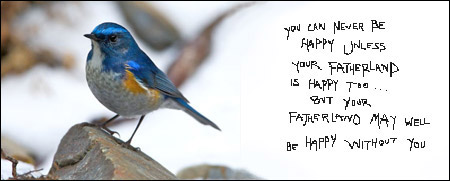 015a Suomenlinna Ornithological Society Web Archive

The Society's Website archives the invented bird species (with names such as Short-Waved Plover, Gunfire Sandpiper and Sawtooth Crag Martin) as well as a number of real species found in Finland. Messages from the other side can also be detected by the inquisitive visitor.

Special thanks go to the photographers and recordists of real bird species, whose work was appropriated for the Society's archive.

top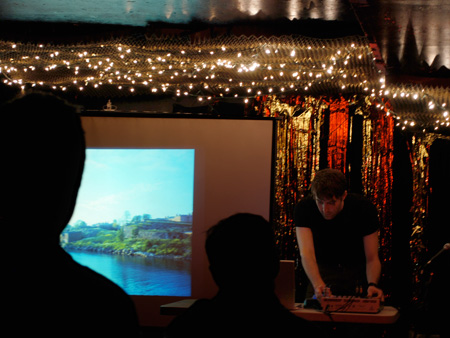 Performance at Cakeshop, NYC / April 2010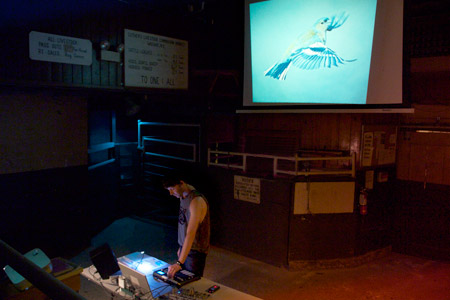 Performance at Wassaic Project Summer Festival, Wassaic NY / Aug 2010

015b Sound Performance with Slide Projection

The performance version of Suomenlinna Ornithological Society is a combination of ambient audio I recorded on the Finnish island, real birdsongs I appropriated, fake birdsongs I created electronically, recordings of Electronic Voice Phenomena (EVP) made by Swedish polymath Frederich Jurgenson (who originally stumbled upon EVP while recording birdsong in 1959), and noisy sawtooth waves synthesized and recorded from a vintage Polyfusion patch bay synth. The piece strives to invoke an artificial and abstract topography that uses the real terrain and sonic environment of Suomenlinna as a base, and is informed in part by Deleuze and Guattari's notions of smooth vs striated spaces.

The performance also includes a physical slide projection showing real Finnish birds (my invented species are listed as "picture not available"), scenes from the island, Rorshach inkblot imagery, and portraits of Frederich Jurgenson. In progress is a sound performance lecture version, where I deliver a slide lecture about the island while simultaneously performing the sonic component.







Sample Slides

top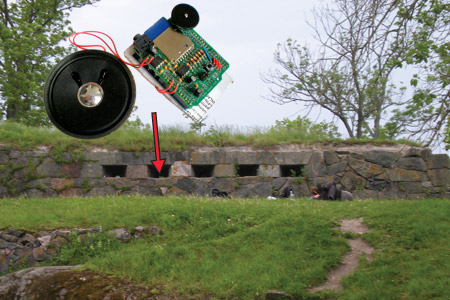 Graphic showing installation on Suomenlinna island for Suokissa Exhibition / June 2009

015c Sound Installation in Landscape or Gallery

For an exhibition on Suomenlinna I installed simple audio devices in trees and gunshafts throughout the island, playing my artificial birdsongs. These devices are also shown in gallery spaces, typically affixed to the ceiling or in some other inconspicuous place.

Special thanks to Pessi Parviainen and Gregoire Rousseau at the Finnish Academy of Fine Arts, who provided space and equipment for the creation of the audio devices.







Some real birds of Finland and a view of Suomenlinna's coast

top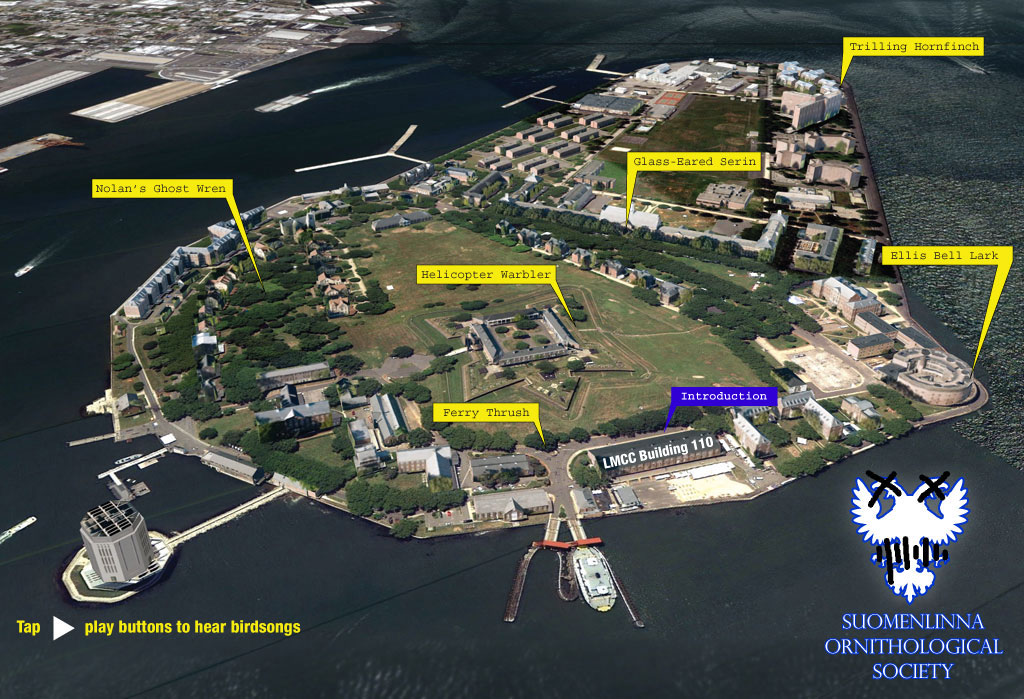 015d Virtual Installation on Governors Island

In spring 2011 I was commissioned by the social media platform Broadcastr to create a piece. Broadcastr is a website and mobile app that features user-generated location-based oral storytelling and sound art pieces. Being artist-in-residence on Governors Island in New York at the time, I created some new birds for the Suomenlinna Ornithological Society. For this version, I shaped the birdsongs from field recordings taken around the island. Click here to have a listen.

top